Breakfast
Easy Red Lentil Marinara with steamed kale and elbow macaroni. Saute one yellow onion, add 1/2 cup of red lentils, 2 cups of water and a jar of your favorite marinara. Bring to a boil and then simmer until lentils are tender.
Not pictured - strawberry, blueberry and banana smoothie made with almond milk and chia seeds.
Lunch
Big Ass Salad (B.A.S.) with greens, red onions, celery, broccoli, tomatoes, yellow squash, garbanzo beans, pumpkin seeds, avocado and Annie's Woodstock Dressing.
Snack
- baby carrots and prepared hummus. I SWEAR I will start making my own hummus soon.
Dinner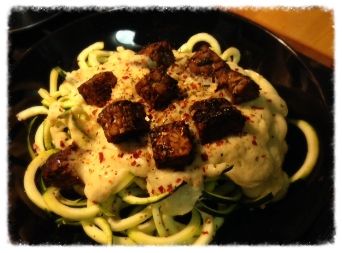 Zucchini Noodles, Italian marinated tempeh and
OSG's Cali-power Alfredo
.